Industry in the Ardennes
INDUSTRIAL INFRASTRUCTURE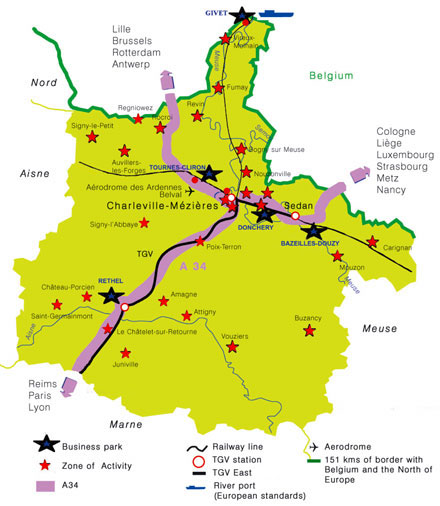 Traditionally anchored in metal working (30 % of national forging / stamping production comes from the Ardennes), industry in the Ardennes has been considerably modernised and diversified and the department has become a pioneer in the field of technological innovation.
Consequently, numerous high security parts, whether it is for Ariane, the TGV, Airbus or the Automobile industry, are made in the Ardennes.
• Great names in national and international industry working side by side with a dense network of SMB'S
| | |
| --- | --- |
| AMADA EUROPE | PSA |
| FAURECIA | SMURFIT Kappa |
| TARKETT France | HERMES - MAROQUINERIE DES ARDENNES |
| CARBODY | MONIER |
| UNILIN | MONDELEZ-LU France |
| HALLA VISTEON CHARLEVILLE | NESTLE France SAS |


THE MAIN ARDENNES INDUSTRIAL EMPLOYERS
| | | |
| --- | --- | --- |
| Firm | Activity | Jobs |
| PSA | Foundry | 2 115 |
| LA FONTE ARDENNAISE | Foundry | 713 |
| HALLA VISTEON CHARLEVILLE | Equipments for automobile | 660 |
| S.A.I. ELECTROLUX | Motors for domestic appliances | 387 |
| FAURECIA | Textile for automobile | 385 |
| KME France SAS | Tube manufacturing | 321 |
| TARKETT | Plastic material coatings | 320 |
| MAROQUINERIE DES ARDENNES HERMES | Leather goods | 267 |
| CARBODY | Plastic injection | 258 |
| D2I | Foundry | 246 |
| ATELIERS DES JANVES | Forge – Stamping | 240 |
| SMURFIT | Corrugated cardboard packaging | 224 |
| AMPHENOL AIR LB | High security connectors | 220 |
| NEXANS INTERFACE | Equipment for connecting communication cables | 210 |
| UNILIN | Panels manufacturing of wooden fibers | 203 |
| NPL groupe DEFTA | Cutting stamping | 135 |
• Opening towards the outside world: very active balance of payment for over 10 years

Main products exported in 2013 :
- Equipment for Automobile
- Mechanical equipments
- Different metal working and equipments
- Panels and wood-based veneering, paper and cardboard
- Electrical, electronic and computer products
- Plastic elements for construction

The first 6 customer countries in 2013 :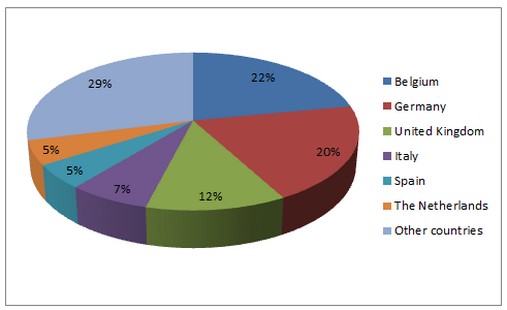 MAIN SECTORS OF ACTIVITY

METAL WORK
The Ardennes has always been the leader in the following fields :
• Forging/Stamping

The Ardennes is the first French center with almost 30 % of national production, including bolt manufacture (15 % of national production).
Companies work for many sectors, including automobiles, heavy goods vehicles, agricultural machinery, aeronautics, armament etc. The sector is evolving toward active co-contraction, partnerships with corporate purchasers.
The improvement of technological competitivity contributes to the increase in the market share of exports.


• Foundry
The Ardennes is the first department in France for foundry production and represents 20% of the national production of castings in iron, steel, aluminium and copper alloys.
The progress in productivity and the level of quality are the determinating assets on markets which are becoming more and more globalised.


AUTOMOBILE
A center of excellence
The Ardennes constitutes a genuine center of excellence in the field of automobile sub-contraction, which represents approximately 7 200 jobs.
Subsidiaires of constructors and equipment manufacturers are present in the department, for instance :
- PSA : Aluminium and SG iron foundry / 2 115 employees
- LA FONTE ARDENNAISE : Ferrous metal Foundry / 713 employees
- HALLA VISTEON Charleville-Mézières SAS : ventilation, air conditioning and filters / 660 employees
- FAURECIA : Carpets textiles for lining and sound-proofing parts / 385 employees.
- CARBODY : Plastic injection / 258 employees.
- ATELIERS DES JANVES : Stamping Forge / 240 employees
- NPL groupe DEFTA : Cutting, metal stamping, assembling /135 employees
Alongside these constructors and equipment manufacturers, a large number of SMB's act as direct sub-contractors in the automobile sector.
Three main areas are concerned :
• Metallurgy : bolt manufacturer, foundry, stamping, welding, machining, cutting-coining...
• Plasturgy : injection of plastics
• Textiles : Equipment and inside lining




PLASTURGY
A good example of successful diversification

Many workshops are integrated in companies whose main activity is metallurgy : the tonnage of plastics transformed is very high but not very visible.
The applications are very diversified : automobile, domestic appliances, information technology, electric equipment etc.
An exceptional level of « quality/productivity » thanks to « high technology » processes : injection, compression of thermohardening, extrusion, coextrusion coating, plastic assembly prototypes, rotomoulding, tooling, moulds, compounding of raw materials etc.


INDUSTRIAL EQUIPMENT
A wide range of production

This very diversified sector represents approximately 300 jobs, and its main productions are :
Laser cutting, numerically controlled cutting machines (AMADA EUROPE), sorting belts, reuse and recycling of waste products (VAUCHE SA), presses with multiple slides for wire or sheet work (NUMALLIANCE), bending presses, impact surface treatment (WHEELABRATOR Group), special harvesting machines (THIERART), etc.




HARDWARE AND ACCESSORIES FOR BUILDING
A traditional speciality

Very diversified activity, it is also another traditional speciality in the Ardennes :
Screws, bolts, nails, buckles, fixing devices for covers and tarpaulins, metal accessories for doors and shutters.
These articles are destined for professional customers and also private individuals through wholesalers, hardware shops and big DIY stores. Many family SMB's are specialised in the production of articles sold by catalogue.
A few examples of companies : FAYNOT, INNOVAX International, FTS, T2i, VYNEX etc.


CONNECTOR INDUSTRY
« High tech » products

Another proof of industrial diversification, the products and activities in this sector have evolved from the production of cables (originally) towards fibre optics and special cable for computers (NEXANS Group), connectors (AMPHENOL AIR LB/Aeronautics) electric and electronic connecting materials, high tech telephone equipment (CDK Industrie).





HOUSEHOLD EQUIPMENT
Many of the products used in our everyday life come from the Ardennes :

Heating and cooking equipment (DEVILLE Industrie), cooking utensils and cast iron garden furniture, inserts, barbecues (INVICTA), chimney casing (ISOTIP JONCOUX), kitchen furniture (FABRIMEUBLE), stairs (MENUISERIE PARIS), Duvet, pads and pillows (ARTHUR FRANCE COUSSIN), Solar systems for heating and hot water production (ERA SUN), Motors for domestic appliances (S.A.I. ELECTROLUX), toilet seats (OLFA), floor and wall coverings (TARKETT, Manufacture Française des Ardennes), wooden floors (UNILIN).
This sector of household equipment employs approximately 1 500 people and is very widely oriented towards exports.






AGRIFOOD INDUSTRY
From agriculture to industry
Ardennes agrifood industry is essentially concerned with activities of primary transformation and represents approximately 1 650 jobs in the following sectors :
- Biscuits : MONDELEZ-LU FRANCE, Technipat
- Milk product industry : BESNIER cheese manufacture, Coopérative Laitière Ardennaise du Nord Est, NESTLE France SAS,
- Animal feedstuffs : luzern and deshydrated pulps : LUZEAL, VIGALARDEN, VIVESCIA
- Meat industry : SOBEVIR, SOCAVI
- Agricultural Equipment : LA BUVETTE
- Bottled water production : Sources ROXANE


WOOD
Ever present - forest covers one third of the department

The WOOD sector is essentially represented by forestry activities and primary transformation, and is situated in the north of the department.
Main production : wooden floors and wooden panels, buildings and chalets, pallets, railway sleepers, packaging etc.
A few examples of companies : UNILIN, NOUYRIGAT, LA SCIERIE ARDENNAISE, REITZ sawmills, BARET sawmills, CEPIA, PIERRARD SAS ...